fiftyminutes
vorstellungenderwelt
( presentations and claims )
f i f t y m i n u t e s deals with "Vorstellungen" - this might be audio-visual ideas, claims, statements, attitudes - which are presented in a unique adventure in 4 dimensions.
-----------------
t h u r s d a y
15 . 5 . 2 0 1 4
2 0 : 3 0 U h r
Kate Donovan & Hans Kellett present:
Katherine and Catherine - the Greatest Sound Icons Ever Ignored.
Through their research into the historical radio figures Catherine and Katherine of Arrogant, Kate Donovan and Hans Kellett rewrote the history of sound art. This Thursday, the academic duo will make a rare appearance, at Fifty Minutes. In addition to speaking of their current research, they will talk about their recent exhibition at the Guggenheim, Riga, "Stereo Personas: Predictions & Expeditions in Post-Radiophonics," which made the woefully inaccessible body of work of these unheard geniuses available to the general public for the first time.
Restored sound from Catherine and Katherine's lives, both during and after their tenures at the BBC, will form a core element of the presentation, offering invaluable insight into the pair's technical and creative brilliance. The arduous restoration of damaged footage, now nearing completion, has yielded results which have convinced even the most fervent detractors of the importance of Arrogants' achievements. Rare radio footage, pioneering sound-art experiments and found field-recordings from the exhibition combine with previously non-existent archive material to make this a must-hear for any serious sound connoisseur. Research made possible by the generous funding of the Berlin Institute of Pleasant Days.
-----------------
-----------------
5 0 p i e c e s i n 5 0 m i n u t e s :
Galerie C&V* stellt 50 Fundstücke einer Spurensuche vor.
D o n n e r s t a g
1 0 . 4 . 2 0 1 4
2 0 : 3 0 U h r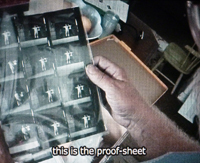 Zu Beginn der Recherche ging es um die Hintergründe der Fälschung eines Ausstellungskatalogs von 1970.
Im Lauf von fünf Jahren hat sich ein Geflecht von Indizien und weiterführenden Spuren angesammelt, die nicht zuletzt die Anwesenheit von Galerie C&V selbst im zu untersuchenden Feld beweisen.
Dabei handelt es sich um die Kunstproduktion um 1970 in Los Angeles und deren kunsthistorische Einordnung bis hin zum groß angelegten Revival der letzten Jahre in Ausstellungen wie Pacific Standard Time.
www.the-missing-i.com
* Unter dem Namen Galerie C&V arbeiten Alexander Mayer, Jo Zahn und Jörn Zehe seit 2007 zusammen.